Next generation queuing & booking
Supercharged customer flow
Next generation queuing & booking
Elevate your customer service efficiency
Obtain all the necessary information about visitors' needs beforehand & boost your customer service speed on-site
Our Software
Tailor-made for financial, medical, and public institutions and industries with high-security requirements. We upgrade & automate your existing queuing and appointment scheduling systems through a simple integration, allowing you to bring your service quality to a new level without additional investment in new hardware or employee training.
Simple & safe virtual queues for a streamlined customer flow. Integration with your existing queuing hardware. Access to clients via Qticket free mobile app.
Reliable, user-friendly booking management to handle all your appointments with ease. Integration with your existing queuing and appointment booking system & calendar. Access to clients via your webpage or Qticket free mobile app.
Organized & Safe
Customer Flow
Eliminate physical crowding in congested waiting areas, redirect customers to nearby branches with the shortest waiting time, organically redistribute visitor traffic evenly throughout the day & comply with social distancing restrictions
Resource Optimization
Reduce administrative overhead, improve staff efficiency, increase turnover & serve more visitors daily with fewer resources
Superior Customer Service
Improve customer experience and reduce complaints with a user-friendly alternative to on-site queuing and cumbersome traditional appointment scheduling
Reduced No-shows
Send out automated reminders with built-in cancelation and rescheduling buttons that allow customers to the self-serve outside of your business hours
Business Intelligence & Analytics
Dive into data insights through auto-generated reports with custom parameters & instant feedback from visitors on their experience through surveys with custom rules and conditional logic
Easy Transition to Online Offerings
Offer visitors an opportunity to receive services online before joining an on-site queue or signing up for an appointment, redirect customers to your website & promote your service digitization
Empower your visitors with safe & stress-free
access to your services anytime, anywhere
Easy availability on all devices
Convenient access to your services in just a few clicks via your company's webpage and Qticket free mobile app.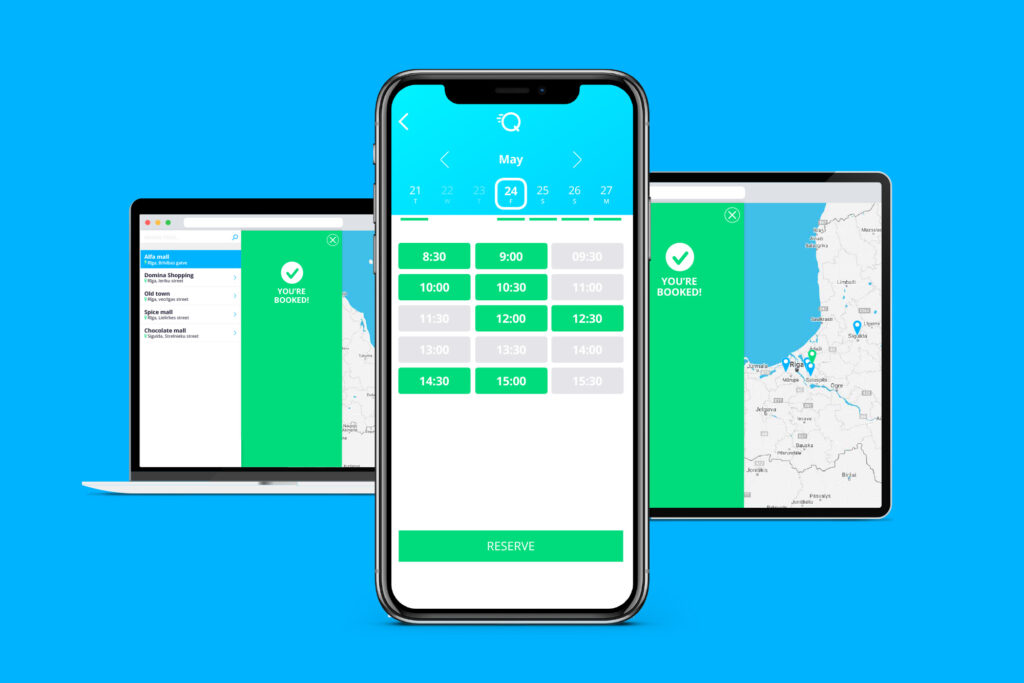 Excellent UI for multi-location establishments
Clean and intuitive design to cater to users of all levels of tech proficiency. Specially created for institutions with several service points with high customer flow.
Key features & tools
Mobile-first, modern, simple, user-friendly booking systems that can do it all.
Don't see what you're looking for? Don't worry, we customize according to your individual requirements.
1. Does Qticket sell queuing hardware?
No. We either upgrade & automate your existing queuing and appointment scheduling systems through a simple integration, or provide standalone solutions in case you have no existing technical base.
2. Are Qticket solutions GDPR compliant?
Qticket solutions are fully compliant with General Data Protection Regulation (GDPR). We are committed to safeguarding the personal information we process, and aim at providing a consistent approach to data protection through the development and implementation of relevant policies, procedures, controls and measures to ensure maximum and ongoing compliance. Furthermore, we recognize our obligations in updating and expanding our approach to meet the demands of the applicable national data protection laws around the world, as well as individual requirements of our clients.
3. What are the requirements to implement Qticket solutions for our business?
None. In case you don't have existing queuing & appointment scheduling systems in place, we offer standalone solutions. There are no additional hardware requirements.
4. How much time does it take to implement Qticket solutions?
It takes 3-7 business days on average. Custom requests may take longer.
5. Is it possible to integrate Qticket solutions into our own app?
Yes, Qticket can be integrated with your mobile app through an API.
6. How much do Qticket solutions cost?
Pricing depends on the selected set of features and number of work stations (customer service locations and/or specialists). As Qticket offers software licensing on a subscription basis (SaaS), you will be billed monthly. To receive a quote that's tailored to your requirements, don't hesitate to contact us.
7. Can we use Qticket solutions offline?
No, Qticket is cloud-based.